Butler
Introduction
Butler Engine receives texts which are the result of recognizing the user's voice input, image information of the device, sensor information, situational information, etc. as input data, determine based on the user profile, context and knowledge, and makes natural control and answers possible.
It uses Perception Engine (ASR, NLP Engine) to analyze the data received as input. It makes a decision based on the knowledge built in Knowledge Management System (KMS) and works with external services.
Butler provides control and answer which fit into the conversational context and the user's situation by utilizing the functions of AI modules which existed independently. Therefore, the user can experience customized service for an individual through Butler.
Butler Engine provided by ThinQ.AI has the following features:
SSP 엔진의 특징

| Features | Description |
| --- | --- |
| Link with various services | Provides customized services on the user's behavior or voice input regarding refrigerator's status, exercise records, food consumption records, biometric records. |
| Control based on knowledge and context | Provides the recommendation service based on the user's food consumption record and exercise record as well as knowledge of cooking recipes, exercise course information, etc. |
| Provides an integrated solution. | Provides information necessary for shopping, exercise, and cooking. |
| Realizes digital human | Provides natural voice responses, facial expressions, and gestures. |
Architecture
Butler Engine provides a natural answer to the current circumstance and control function after receiving User utterances, contextual data as an input.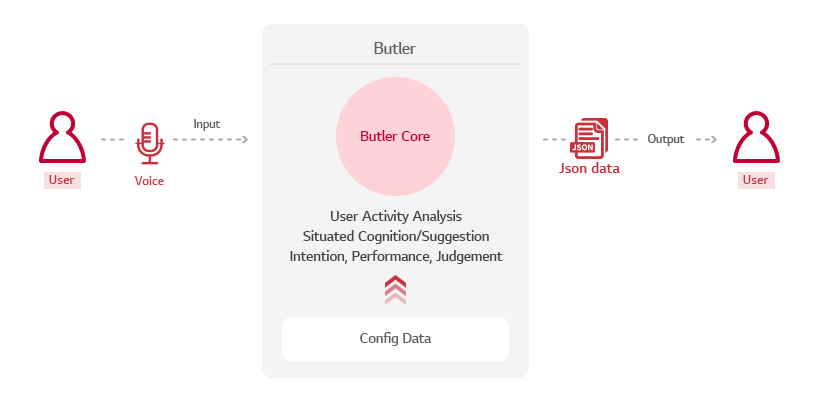 Use Case
Butler Engine can be used in various fields.
AI Refrigerator
With a voice command, foods inside the refrigerator and the state of refrigerator can be managed. It provides the function of checking refrigerator stock, providing food information through barcode recognition, providing photos of the inside of the refrigerator, searching and ordering food, and notifying whether the refrigerator door is closed.

AI Doctor
Health conditions can be checked and managed with a voice command as if being consulted by a family doctor. The user can monitor his/her health conditions with voice commands, check data such as body composition/blood pressure/heart rate, etc., and manage overall health conditions including exercise results.
AI Chef
It helps easy and interesting kitchen life as a professional kitchen assistant guide. The user can receive recipes which fit in the ingredients in the refrigerator through voice command. The user can be provided with necessary information throughout all steps from preparing ingredients to cooking.

AI Concierge
As a service that provides convenience to the guests by guiding Information on facilities or restaurants (location, business hours, phone number, etc.) through the user's voice commands and improving the efficiency of managing facility.

AI Home Trainer
As a service that provides customized home training, the user can use personal training services with voice commands. The user can check current exercise status such as body composition/flexibility/balance, get advice on appropriate location and exercise course, and check the exercise goal and its result.