Anywhere is home
Build new possibilities
for a better life.
Explore ThinQ Platform and build wonderful things on it.
Let's create a new lifestyle together.
Bringing New Life with ThinQ
ThinQ is the brand of LG that brings together AI products and services as well as those with connectivity capabilities.
It elevates your quality of life with Smart/AI-powered appliances and electronics.
LG ThinQ will evolve over time by learning about the user, connect seamlessly
with customers' lives and open up an eco-system of innovation made stronger
by partnerships and cooperation.


EVOLVE
The more you use LG ThinQ,
the better it works.


CONNECT
Seamless connectivity
wherever you go.


OPEN
Collaboration with partners
for the best experience.
Learn more about LG ThinQ
Why
ThinQ Platform
ThinQ Platform is an enabling technology to achieve ThinQ's vision, and it consists of AI, Cloud, and Analytics.
It is a foundation for all our Smart/AI-powered products, services, and solutions.
You can realize innovations at home and beyond with ThinQ Platform.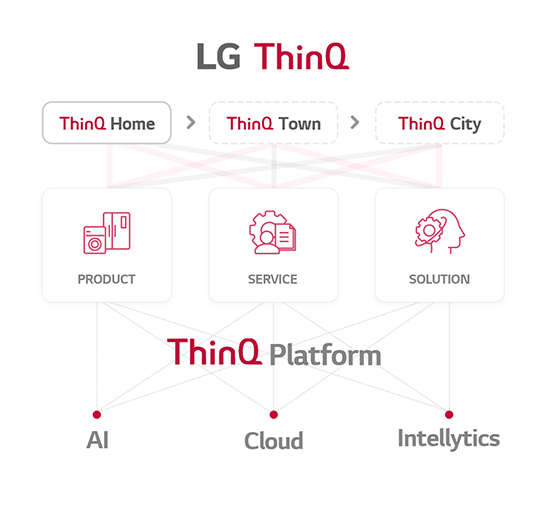 Evolving Intelligence
Learns and evolves through interaction with the user
and proposes suitable solutions for the user.
Seamless Experience
Makes it possible to eliminate the traditional constraints of space
and time and creates a seamless living experience.
Open Collaboration
Creates a synergy effect with external partners and developers
to accelerate the development of the AI and connectivity technology.

Develop AI services for a specific domain with LG experiences.
VISIT WEBSITE

Connect our intelligent devices to your service through ThinQ Platform.
VISIT WEBSITE
Levels of AI Experience
The levels are designed to guide the industry players on how to approach the application of this exciting technology.
Each level represents a step-change in Smart/AI-powered products and services to provide new benefits to users and society.
Level 1

EFFICIENCY
Level 2

PERSONALIZATION
Level 3

REASONING
Level 4

EXPLORATION
LEARN MORE ABOUT AIX LEVELS
VISIT WEBSITE