Meeting with Joseph Lim, R&D Manager of Video Intelligence at the LG Electronics
As we've seen throughout our Living with AI series, artificial intelligence has made a massive impact on our daily lives. Voice recognition is perhaps one of the most recognizable hallmarks of voice intelligence technology. We use voice intelligence to control devices with a nearly infinite repository of information, and are able to obtain useful information without lifting a finger.
Many of us have already lived the experience of using voice intelligence for daily tasks. But, have you ever heard of "video intelligence"? The term may be new to some. But we've already used different versions of video intelligence, perhaps without even knowing it.
We met with Joseph Lim to learn more about video intelligence and what it can do. Joseph Lim is a next-generation leader in artificial intelligence, and a professor in the Department of Computer Science at the University of Southern California. He's also responsible for video intelligence research at the LG Artificial Intelligence Research Lab.
Joseph Lim Managing Director – LGEUS Zenith R&D
– Professor, Department of Computer Science, University of Southern California (2017 - Present)
– Masters and Ph.D., Massachusetts Institute of Technology
– Expert in video intelligence, combining Reinforcement Learning, Deep Learning, and Computer Vision technologies
– R&D Manager of Video Intelligence, LG Artificial Intelligence Research Lab, CTO division of LG Electronics
What Is Video Intelligence?
Video intelligence refers to all things that can be seen through image sensors mounted on not only IT devices, but all devices connected to electricity. It basically serves the same function as your eyes.
Could it be that video intelligence is used in far more applications than we might think?
If you're unfamiliar with the term, you may think of it as some extraordinarily complex technology. Let's take a look at some examples to see what exactly video intelligence can offer.
Video Intelligence in Everyday Life
As it turns out, video intelligence is a technology that's the most widely used in everyday life.
Although we may not recognize it, it's used for a variety of purposes– license plate readers, video analysis systems, food-recognizing refrigerators, automatic face recognition, autonomous driving, and automatic image sorting. Here are some examples in detail.
① Advanced Driver-Assistance System (ADAS) Cameras
These days, autonomous vehicles (AVs) are the focus point of the automobile industry. But, do you know that AVs significantly depend on video intelligence technology? The most important part of autonomous driving is the camera, making video intelligence technology the key component.
LG Electronics develops cameras for autonomous driving. To be more specific, the company develops "ADAS" cameras, which stands for Advanced Driver-Assistance System.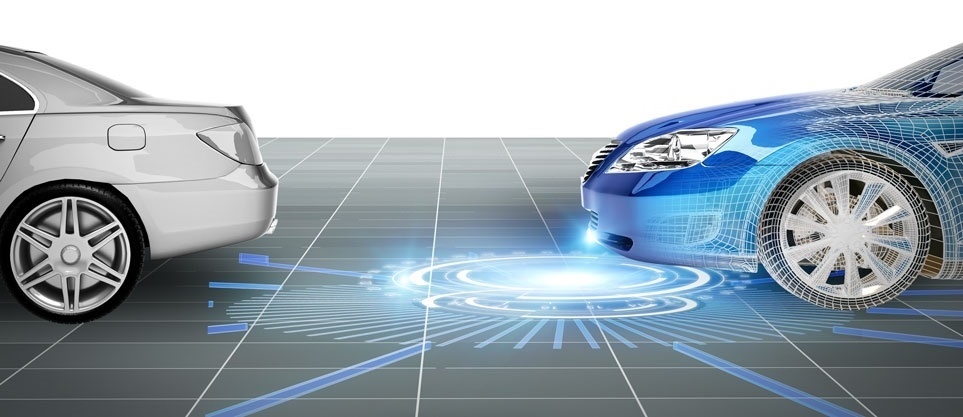 An ADAS camera utilizes artificial intelligence and deep learning, but it doesn't just stop at recognizing visible objects. Video intelligence cameras learn and analyze videos produced in different situations and conditions. Over time, their recognition rate increases to the point that they're able to predict movement of automobiles and people, spot trends, and even predict future patterns.
② LG OLED TV AI Processor, Alpha 9 (α9)
LG Signature OLED 8K TV
Alpha 9 (α9), an artificial intelligence processor embedded in LG OLED TVs, recognizes both text and people's faces in videos, produces an optimized picture quality on-screen, makes facial skin tones appear more natural, and displays facial expressions in greater detail. It also enhances the contrast of text in the video.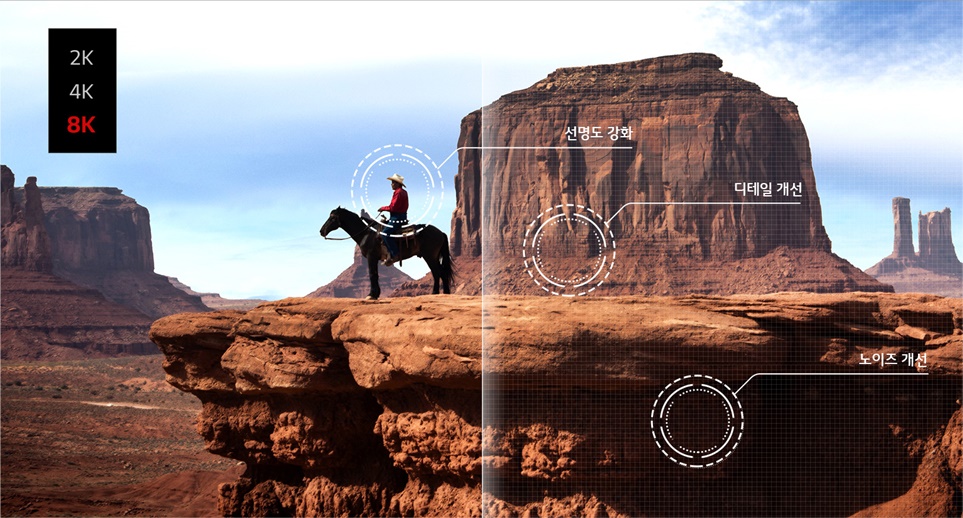 This image is enhanced to help your understanding. The resolution of the enhanced image may differ from the product, depending on the quality of the original image.
Alpha 9 has an upscaling function that improves the quality of an image when the image quality is poor. It reduces noise and enhances contrast in 2K or 4K videos to produce sharper images in 8K.
– Real 8K indicates that the product meets the resolution (7680 x 4320) and image sharpness (30%-50% or higher, depending on the case) of the 8K standards stipulated by the International Committee for Display Metrology (ICDM), the Consumer Technology Association (CTA), and the International Organization for Standardization (ISO).
③ Robotic Vacuum "LG CordZero R9/M9" ThinQ Sensor
LG CordZero R9/M9 ThinQ
This robotic vacuum learns the layout of a house with the help of several installed image sensors, and uses that information to perform a customized cleaning that's faster and more efficient. Its video intelligence technology also enables the robotic vacuum to find its docking station on its own.
– To use this function, download the LG ThinQ app from the Play Store or the App Store, install it on your smartphone, and connect to Wi-Fi. For more information, refer to the Help section of the app.
– The LG ThinQ app may have restricted use in some smartphones, or may not work properly. Be sure to double-check minimum specifications prior to installing. (Android OS 5.0 or higher, iOS 10.0 or higher)
– According to our testing results, the house layout map constructed by the robotic vacuum may differ from the actual structure of the house depending on usage environment.
④ LG InstaView ThinQ Refrigerator Camera
Have you ever made multiple trips to the refrigerator, just to see what was inside?
Knowing the contents of your refrigerator without opening it would save energy, as well as make food management much easier for your household. With video intelligence technology, you'll be able to incorporate such a convenience into your near future.
A Refrigerator that Knows Itself Inside and Out
LG Electronics has been developing video intelligence technology that utilizes a camera inside your refrigerator to display current ingredients, recommend dishes, and automatically order food items that are running low. In January, at CES 2020, the world's largest IT and home appliances exhibition held in Las Vegas, LG Electronics unveiled their new technology and drew global attention.
A Better Life, Brought to You by LG Electronics's Video Intelligence Technology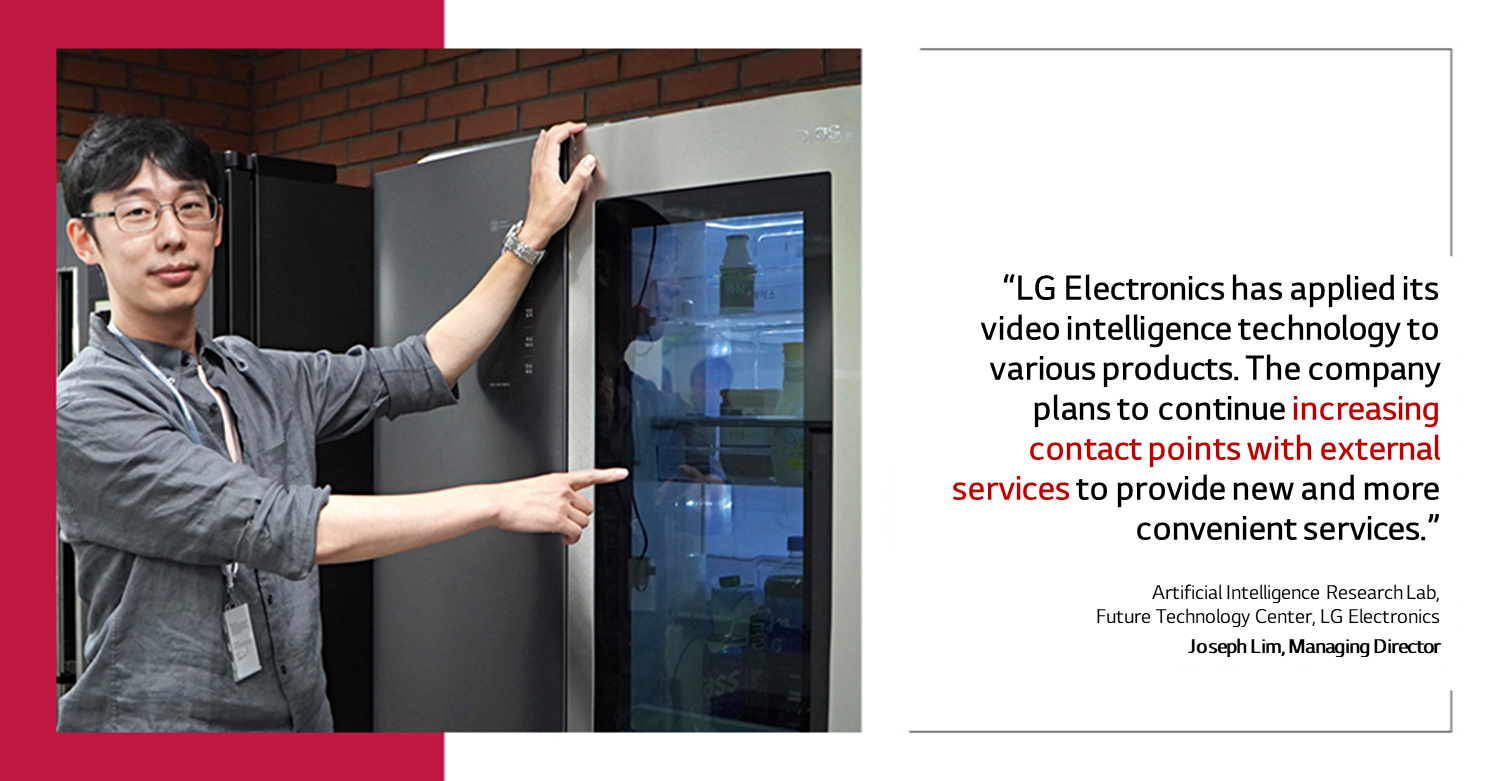 LG Electronics won't settle for simply incorporating technology into its products. It will continue striving to provide new services by increasing contact points with external services.
One such service has been the development of food-recognition technology that goes one step further to automatically order ingredients for delivery to your home. This is made possible by combining LG Electronics's technology with external services.
In our interview, we found that video intelligence is used in all sorts of daily tasks that we may not have expected. We hope to see LG Electronics produce even more AI products to better our lives in the near future as video intelligence technology evolves.
*This post has been edited the post contributed to LiVE LG, https://live.lge.co.kr/live-with-ai-05/.