[AI Seminar] Limitations of Neuro AI
In the fifth AI seminar, we had the opportunity to listen to a lecture on the 'Limitations of Neuro AI' given by senior researchers from LG Electronics AI Research Center, Kim Ko-keun and Kim Jae-hong. The lecture was divided into two sessions. The first session introduced Neuromorphic and Neuro-symbolic AIs, and the second session dealt with some research cases in the field of Neuro-symbolic AI.
Session 1: Neuromorphic AI and Neuro-symbolic AI
Over the past few years, the field of AI made a big leap forward with great improvements in processing capacity and computational efficiency as well as new insight in deep learning. Despite the developments, AI still has limitations. How can these limitations be overcome?
There are many ways to approach them, but in this session, we took a look at "Hyperscale AI", "Neuromorphic AI", and "Neuro-symbolic AI."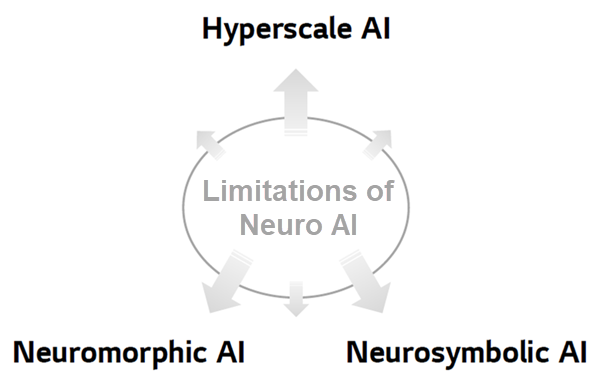 3 ways to overcome the limitations of Neuro AI
1. Hyperscale AI
'Hyperscale AI' uses computing infrastructure with high computation speed to learn large volumes of data.
LG Electronics plans to invest at least 100 million dollars in AI computing infrastructure over the next three years to develop Hyperscale AI that thinks, learns and makes decisions on its own. That is a huge investment, right? It will be the first investment of this scale in this field made by a global manufacturing company. LG Electronics will continue its efforts to improve customer values through Hyperscale AI, by enhancing service quality, shortening product development process, and more.
2. Neuromorphic AI
The human brain has more than 150 trillion neuronal junctions called synapses, which are used by neurons to exchange signals with other neurons, and processes information in a split second. The high computational and decision-making speeds of a human brain cannot yet be matched by the highest-quality AI there is. The trend now is to mimic the human brain to achieve a higher processing speed, and a synaptic information transfer system called the spiking neural network is emerging as a new key in AI. AI that mimics the neural structure of the human body is called "Neuromorphic AI."
Neuromorphic AI lets the computer imitate the parallel processing of the human brain rather than use serial processing in order to remember and compute large amounts of data simultaneously. Many efforts are currently being made to narrow the gap between the human brain and AI.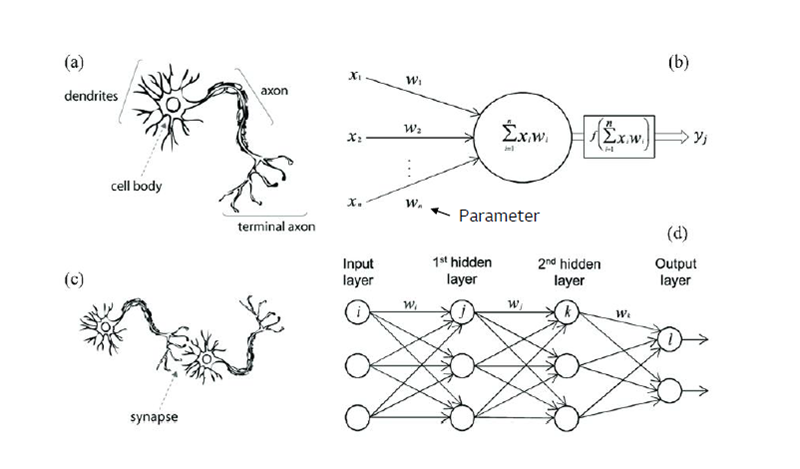 Comparison of human neural networks and AI computational processing methods
3. Neuro-symbolic AI
Do you remember that the title of the fourth AI seminar was "Can deep learning teach rationality, ethics and philosophy from real life?" We had already dealt with "Neuro-symbolic AI" in that seminar, and we re-visited the subject in this lecture. Certainly, this tells us how hot this topic is in the field of AI at the moment.
Neuro-symbolic AI combines deep learning with reasoning and application capabilities. It enables the computer to understand human languages and dialogs better and is being used as an important measure of development in the field of natural language processing. If the development of Neuro-symbolic AI can be accelerated, we will soon be able to see our voice assistants and chatbots giving us helpful answers to most of our questions rather than nonsense ones.
Session 2: Neuro-symbolic AI research cases
Neuro-symbolic AI is categorized into six types as illustrated in the figure below.
The most prominent of these at the moment is the third one, which uses a neural model to sense objects and a symbolic model to reason. In the second session, we looked at research cases on this particular type of neuro-symbolic AI, focusing on formula and research trends.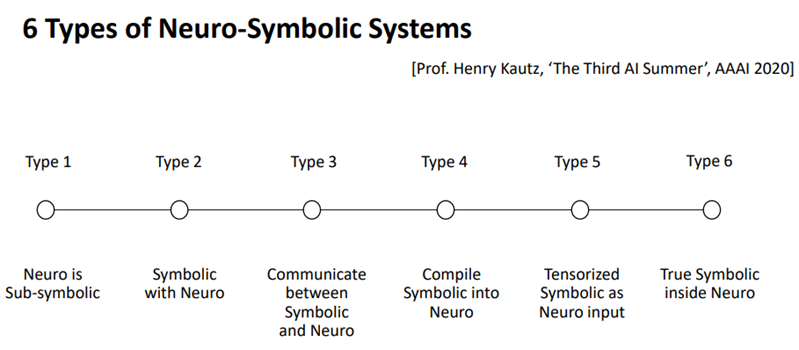 6 Types of Neuro-Symbolic Systems
Although AI technology is growing at a rapid pace, it has not yet reached a level comparable to human intelligence. However, as the gap between humans and AI gets narrower and the AI technology more sophisticated, the AI will be able to better understand our thoughts and communicate with us more smoothly.
Let's hope that the "Hyperscale AI", "Neuromorphic AI" and "Neuro-symbolic AI" technologies can enable the AI to more deeply understand humans and provide more beneficial answers to human society.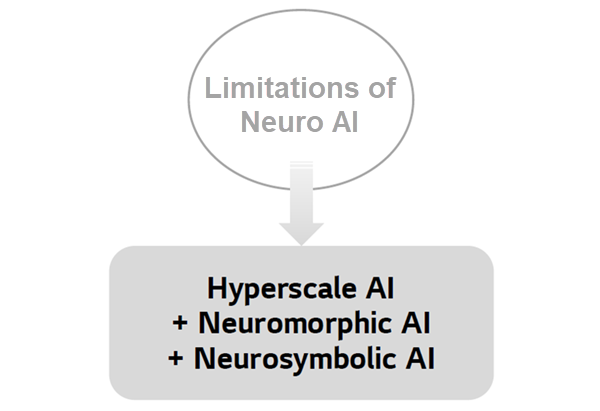 Overcoming the limitations of Neuro AI by Hyperscale AI, Neuromorphic AI, and Neuro-symbolic AI.
ThinQ.AI is also making strides to reach a point where it does not need any human intervention to function.
This September, LG Electronics will be releasing the knowledge-based ThinQ.AI 5.0 to offer real values to customers. Please look forward to experiencing this product.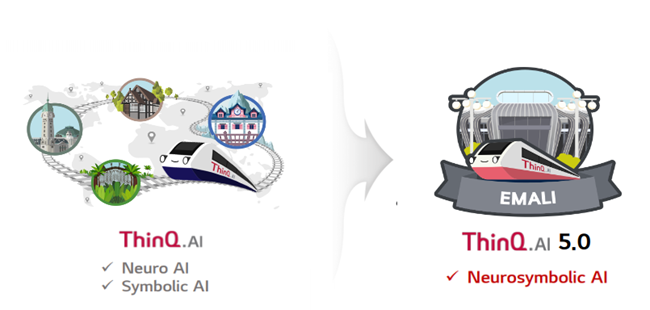 Introduce ThinQ.AI 5.0