Vision Pack - Fabric Recognition
Introduction
The Vision Pack Fabric Recognition (VPFR) service provides the function to detect 12 types of fabric using digital signals obtained from an infrared spectroscopy sensor and sort them accordingly.
The user can move the sensor close to a piece of fabric to acquire digitized signals through an infrared emission/reception process and transmit the signals to the service, which then figures out the type of fabric to inform the user.
The service classifies fabric into 12 types, including six non-delicates (acryl, cotton, nylon, polyester, polycotton, poly wool) and six delicates (acetate, rayon, silk, wool, rayon nylon, rayon poly).
The VPFR service provided by ThinQ.AI supports the following features.
SSP 엔진의 특징

| Feature | Description |
| --- | --- |
| Fabric recognition using infrared spectroscopy sensor | Analyzes real-number data from the infrared sensor to identify the fabric as one of the 12 types and returns the result. |
| Fabric type classification | Classifies fabric into 12 types (six non-delicate and six delicate types). |
Structure
The VPFR service receives as input real numbers that have been digitized from an infrared signal sensed from fabric, identifies the fabric as one of 12 types, and outputs the result in text.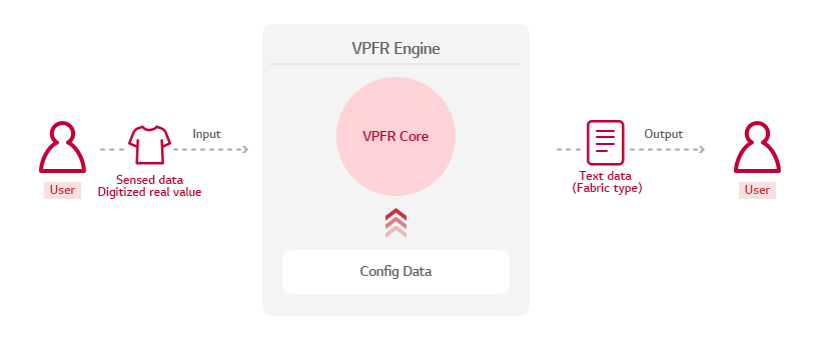 Use Cases
The VPFR service can be applied to various services in daily life.
The user can scan a piece of fabric with an infrared sensor device equipped with a VPFR service to identify the fabric type.