ThinQ.AI
Introduction
ThinQ.AI is an AI technology platform of ThinQ, which is LG's artificial intelligence brand, and is a platform where anyone can develop applications and services with ease using the AI-based on LG's technology know-how. In addition, ThinQ.AI is used in various AI products and services such as home appliances, automobiles, signage/kiosks, and robots, and boasts proven performance and quality.
ThinQ.AI has the following characteristics:
Provision of an integrated platform based on user experience and knowledge
Provision of optimized services to the user based on user experience
Provision of services which evolve based on multi-knowledge
Support for integration of various AI engines
A voice intelligence total solution for speech recognition, natural language processing, and speech synthesis specialized for noisy environments such as inside the vehicle
A 3D imaging engine with high precision for applications such as face recognition and monitoring of vehicle drivers
Support for technologies of partner companies such as facial feature recognition and speaker identification
Development tools and environment that are convenient
REST APIs which can use the ThinQ.AI service without development environment restrictions
Reduction of development time by providing engines of various functions through SDKs of the same interface
A web UI-based toolkit which the novices in AI product/service development can use with ease
ThinQ.AI will continue to contribute to the enhancement of LG's unique AI technology through sustained engine development and function improvement.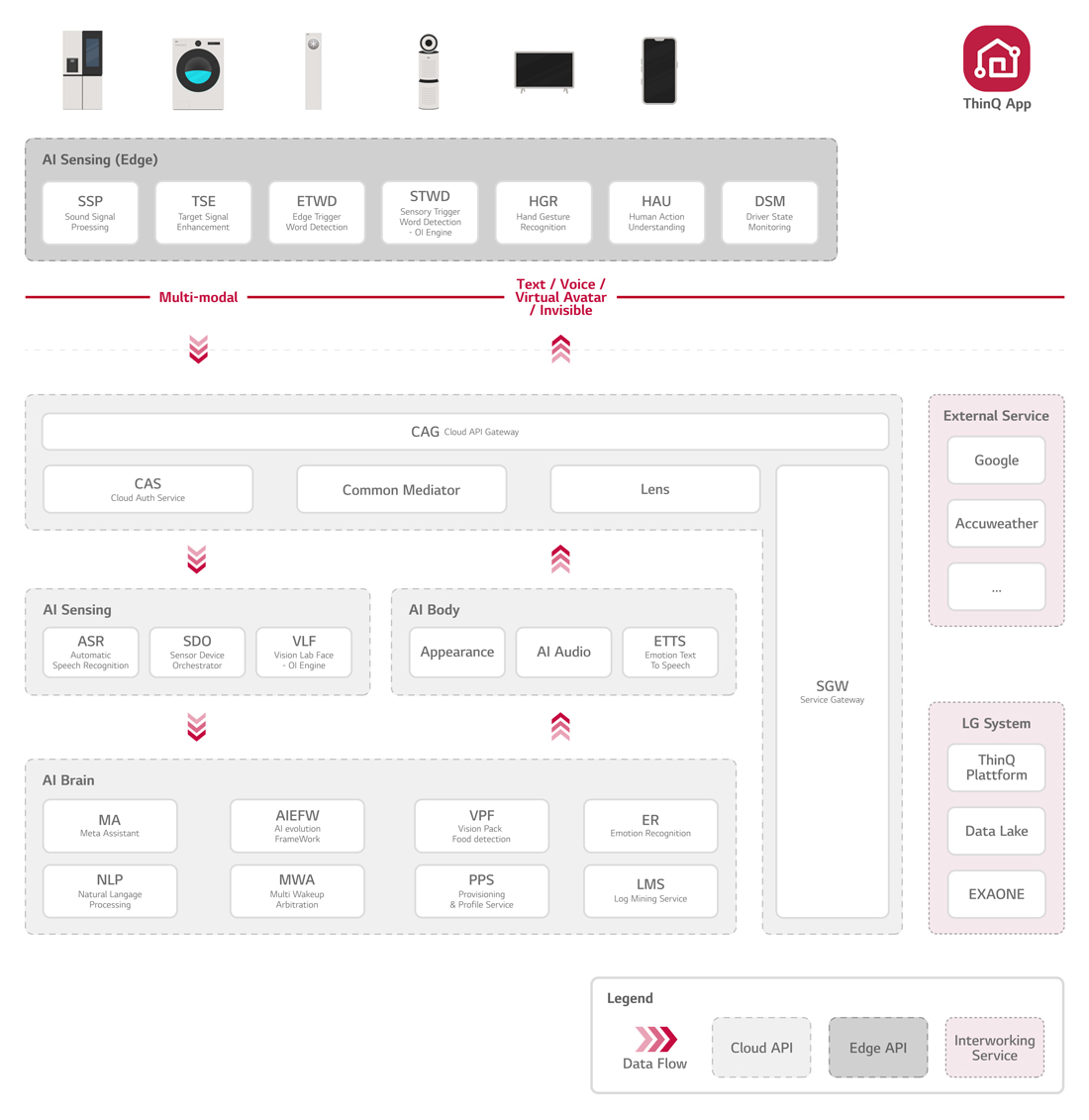 Benefits
AI technology with which even non-experts can develop applications easily
SDKs and REST APIs that are easy to use
Sample programs to help you understand and apply the technology
Proven quality
Excellent speech recognition
Inspection with LG's strict quality standards
Quality has proven through application in various commercial products
Field-specific features
Speech AI technology specialized for various devices and spaces
Based on LG's technology know-how, it is possible to develop artificial intelligence services specialized for a specific product or business field.
Reduction of development cost
Reduction in the initial development and implementation costs through a trial version of Open API provided free of charge
Rapid prototyping and demonstration with various toolkits
Partnership
ThinQ.AI provides various support and benefits for the development of AI technology and services by partner companies. Also, we equip the ThinQ.AI platform with the technologies of partner companies which have a technology partnership with LG to improve AI technology competitiveness. For more information on ThinQ.AI partnership, please visit the Partners page.